Paradise Restaurant at Eden Rock
---
Paradise's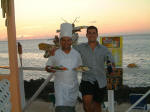 swift service, light fare menu and beautiful view make Paradise THE place for lunch or dinner in George Town.
The Cayman Islands are know for diving, snorkeling, the sea and beaches. Paradise Restaurant has all of Grand Cayman finest points all in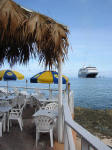 one. Located on the George Town Waterfront, a 2 minutes walk from the cruise ship dock, the restaurant and seaside patio overlook the world famous Eden Rock dive site and George Town Harbor.
As a Scuba Diver or Snorkeler you can enter the water on 3 easy steps carved out of the shore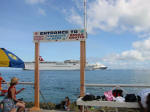 and explore Eden Rock/Devils Grotto in minutes. There is no better reward than a huge selection of Drink Specials, especially after a long exhausting underwater adventure.
Paradise excellent setup is not only found in the restaurant/bar area. Outside on the large seaside patio there is plenty of seating and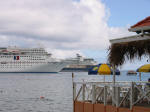 room to "gear up" before a dive or snorkel adventure. With dive /snorkeling equipment available on site all is there to ensure the customer receives exactly the service they deserve.
At night the whole restaurant magically transforms into a Mediterranean fare; dining on the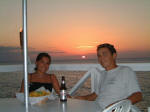 water has never been so sweet, with the glow of George Town and the glowing lights of 7 Mile Beach in the distance. This whole new dining experience will envelope your Caymanian essence.
Come on over to Paradise to snorkel away and have a great lunch during the day and at night to sample the brand new menu now offered nightly on the seaside patio.