Pirate's Den Pub
Pirate's Den Pub, better known as PD's to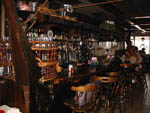 the locals of Grand Cayman, is one of the original Pubs in the Cayman Islands. Pirate's Den Pub service has always been first rate with a friendly and efficient staff. The lively atmosphere, great beer and food make it a favorite hang out for locals and tourists alike.
Pirate's Den is built around a "Pirates of the Caribbean" motif. The bar area features a wooden pirate ship cross section making the whole surrounding an inviting galley flair.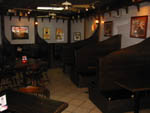 Centrally located on 7 Mile Beach in the Galleria Plaza, PD's offers a delicious inexpensive menu for all tastes. A PD's tradition are the Buffalo Shrimp or Wings, a must for those who like a little spice in their lives.
With a wide variety of imported and local draught beers, as well as a fully stocked bar, PD's has always been consider the "in" place for Happy Hour and a "hang out" for sports enthusiasts. PD's offers three separate dining rooms. One room offers a large screen TV which is used for televised sporting events. Known for it's extremely popular bar and sports oriented features. In Cayman if a sport game is on, you'll find it showing at PD's!

The PD's Pub was the first place in Cayman to offer Internet access and is currently the only bar to offer this service. You can enjoy a beer and get online. PD's Pub have recently expanded their service with more computers and a super fast 1500bps connection, that's nearly 30 times faster that your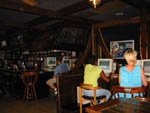 home 56k modem!!
To start you day right, head to PD's Pub for one of the best breakfast deals on the island. If you are in a hurry, call and place an order to go. Don't miss the PD's brunch, every Sunday!
For a great Pub experience, make sure to visit PD's on your next visit; we are confident you will visit PD's time and time again.