At the gates of the best shallow scuba diving and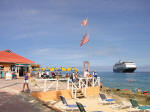 snorkeling in Grand Cayman you will find Abanks Dive Center. Located in the most famous Cayman Islands dive location, Eden Rock, Abanks Dive Center has it all.
Placed a short 2 minute walk from the George Town Passenger Pier visiting this beautiful site has never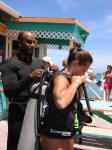 been easier. Abanks is fully equipped for your outing, with snorkeling equipment rental, dive equipment rental, life vests, cameras, lockers, even beach chairs. Your day will be complete for a great water excursion.
The savings couldn't be better, why pay a fortune on boat dives when you can easily just "jump in" and have a great relaxing off shore dive. With the offered guided dive tours you can see it all and be sure not to miss the best caves and
tunnels with the help of experience Dive Instructors.
New to scuba diving? Try the Beginners Diving Adventure!! This introductory course takes just a couple hours. Instructed by Professional Scuba Instructors, this resort course is just the ticket for visitors wanting to see the beauty of the Cayman underwater nature. Located in a protected Marine Park the sea life is phenomenal and the visibility exceeds 150 feet!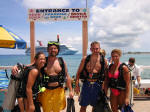 You will not find better prices, better snorkeling or a more convenient scuba diving anywhere else! Come on down to Abanks Dive Center and take your vacation to a maximum height!
Abanks is located next to Paradise Restaurant. They have created Club Paradise where you can snorkel, dive and enjoy a great meal or drinks after your excursion. Print out the restaurant discount coupon to maximize your savings!!
Click here to see what the Restaurant has to offer.
Do you have a question? Fill in our form!!
---