Blue Iguana Outlet
---
Shopping in Grand Cayman does not get any better than this! The Blue Iguana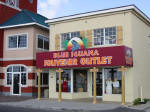 Souvenir Outlet Store is a one stop shopping bonanza. The shop is located on the George Town Waterfront, 2 minutes away from the South Cruise Ship Terminal, has exactly what you are looking for. This is where you can find a "one stop shop" for all you vacation souvenirs in Grand Cayman.
The Blue Iguana has over 1600 souvenir

items for you to choose from! Here is where you'll find that Cayman Islands T-Shirt you just have to bring back to your friends and family! The t-shirt selection is outstanding, with numerous choices of styles, colors and designs.
The full collection of the popular Guy Harvey marine designs t-shirts can be found here with the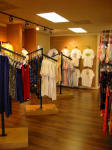 logos all stitched or printed on the highest quality fabrics.
Choose from hundreds of newborn clothing styles and designs to have your little ones sport their own Cayman Islands apparel. The Blue Iguana also carries kids & teen clothing lines with styles sure to please every family member. Don't forget to pick up a few extras to bring home for your friends and family.
If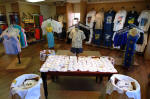 you are shopping for beach accessories, the Blue Iguana carries the latest and hottest Caribbean styles. You will find a fabulous selection of hats, caps and sunglasses to protect you from the warm Caribbean sun. Choose from a variety of colorful beach tote bags and straw bags, a must, for carrying all of your essentials

to the beach. Beautiful wraps and Batik one-of-a-kind sarongs to match almost any bathing suit. Unique flip flops and sandals with beads and sequin designs are also available to complete your island look.
The Blue Iguana Souvenir Outlet also offers a wide

range of collectible souvenirs for you to choose from. Coffee mugs, shot glasses, key chains and fridge magnets with unique Cayman Islands designs. The coffee collection is absolutely delicious, step on over for an early shopping day and enjoy a complementary cup or two in order to decide which coffee bag to bring home with you.
For all your shopping needs a stop at The Blue Iguana is essential. Take advantage of our discount coupon on you Grand Cayman vacation.
Click here for Grand Cayman on-line shopping!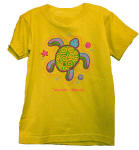 Grand Cayman turtle logos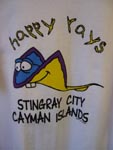 Choose from hundreds of stingray designs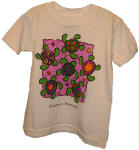 and even more Grand Cayman turtle logos