Grand Cayman Jeep Safari and Rum Point Tour Excursions
---
Jump into our Brand New Jeep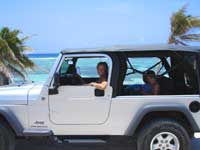 Wranglers and hit the road for adventure on our Grand Cayman Island Jeep Tour.
This is the perfect way to see the Island of Grand Cayman, the freedom of a Jeep with the comfort of a guided tour.
Our Unique Jeep Island Tour will take you to our favorite spots in Grand Cayman offering your the chance to see some lesser known treasures of the Island currently not offered on any other tour!
The first stop will be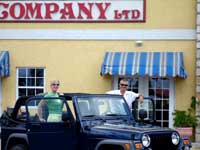 at Cayman's famous Tortuga Rum Cake Factory where you will be able to sample the many varieties including chocolate, Coconut, Banana and Coffee to name a few
This is a great stop for souvenirs as they offer many products including Rum, cakes, fudge, coffee and Hazel Nut Rum Truffles!!
Next we will continue on through George Town to the Southern Coast of the Island, South Sound will give you a sample of Grand Cayman's Millionaire Raw where some of the most precious homes are found, also the most heavily impacted area of Grand Cayman during Hurricane Ivan. See first hand what all forecasters have been talking about!
Next we drive our Jeeps past Pedro's Castle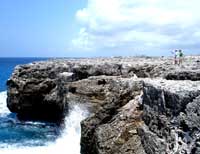 and off road onto the Bluff. This secluded area is a first time experience to all visitors, yet another visit to one of our secret locations on our voyage. The Bluff is truly majestic, overlooking the crystal clear waters of the Caribbean, this area is a legend in it's own rights, tales speak of the Bluff being the true hideaway of many Pirates and the area of choice for their hidden treasures. Due to the landscape, caverns and hidden passages from the ocean to land the story might hold more truth than fiction. Nearby Pedro's Castle is perhaps one of the most Historical buildings in Grand Cayman, on your tour you will be able to experience the true taste of Cayman like no one has ever experienced.
The highlight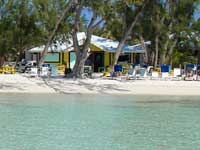 for many of our Clients is the last stop, Rum Point, your final destination. Rum Point Beach, gifted with swaying Australian Pines, secluded beaches, beautiful villas and a great restaurant right on the beach will provide you with a much needed chance to relax from your busy Cruise. Beach Chairs, Hammocks, shaded areas, snorkeling, it's all here! Equipment rental is found on site, as well as water toys, Wave Runners, water skiing, banana boat rides and more!
This fantastic new excursion is perfect for families and groups of all ages. The excursion limited in numbers of participants in order to create an intimate, well followed Island Tour and Beach time, please ensure to reserve well in advance of your arrival date in order to assure availability for your group.
| | |
| --- | --- |
| Jeeps at The Tortuga Rum Cake Factory | Photo stop on the Cayman Island Jeep tour |
| Stopping to explore on the Island Jeep Tour | Looking over the 30ft cliffs of Pedro's Bluff |
| Picturesque Dock at Rum Point | Riding an Iguana at Rum Point |
Please fill in our on-line form to reserve or for more info on our fantastic Grand Cayman Jeep Safari and Rum Point Tour
---
1:30PM (12:45pm meeting) Snorkel Tour: An afternoon 2.5hr half day Stingray City Excursion, approximately 2.5 hours long, with 2 stops one at the Stingray City Sandbar followed by Coral Gardens, the Aquarium or the Barrier Reef. Snorkeling gear and transport included!