Stingray City Private Sailing Charters
---
If you want to cruise Grand Cayman in style, Red Baron charters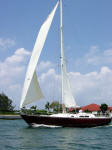 is the only way to go! This 39ft sailing bullet will provide you with world-class entertainment and take you to Stingray City too! Play with stingrays, crew your own boat; enjoy the crystal blue waters of Grand Cayman. Whether you are a sailing enthusiast or a first timer, Mike and Neil will provide you with the ultimate Caribbean sailing adventure. Your cruise can be personalized to suit your family or group providing unsurpassed flexibility. With over 15 years experience in our Cayman waters, Mikey and Neil will make sure you receive an unforgettable Caribbean sailing experience.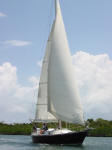 Why fight the crowds?

With a 10-people max rule, the Red Baron is the perfect boat to charter with family or friends. Why pay the same amount of money for a boat full of people? For the same cost, minus our discount, you can have your own boat!!

Your private Half Day Stingray City Charter will begin at 8:30am, where you will have an exciting, relaxing sail to one of the best snorkeling spots the North Sound has to offer. Because of the Private Charter setting, you will be able to take part in the decision making over time spent at snorkeling stops. The Red Baron will take you to locations such as the Aquarium, the Barrier Reef or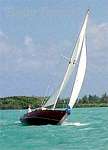 Coral Gardens depending on crowd conditions. The second stop is over World famous Stingray City, you will be able to play, feed and pet Southern Stingrays in their own natural habitat! Full day charters are also available from 8:30am to 3:00pm, this fantastic 3 snorkeling stops charter included lunch and refreshments! The Red Baron also offers Sunset Sails over the beautiful North Sound, do not miss the opportunity to view our magnificent Grand Cayman sunsets aboard your own boat! Sunset Sails are offered nightly from 5:00PM to 7:00PM, bring your own booze & we will have the mixers for a fun cruise to view our beautiful sunsets.
Need Info? Please fill in our form!