Bring home a bundle of joy from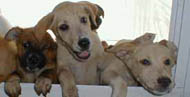 the Cayman Islands. The ultimate vacation souvenir will bring fun and love into your family just by adopting a pet from the Humane Society. These "pure bred" Caymanian dogs come in 4 colors and 6 different breeds all in one! Known for their loyalty and friendliness bringing home a Cayman pet is becoming ever popular amongst our visitors to our Island.

Please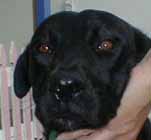 support the Cayman Humane Society by giving these wonderful Cayman puppies and kittens a new home. Visit the Humane Society while in Grand Cayman to meet these beautiful pets, shop away at the Claws-it Thrift Shop and "The Book Loft" for the best deals in town.
Traveling back home with your new pet is easy and inexpensive; the Cayman Humane Society will help you with the few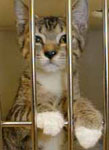 details. This rare and exotic breeds can be yours by providing a safe, caring home, filling out a form, a carrying case for the plane ride and if possible a small contribution to cover the cover the cost of the care of the animal has received at the Society.
Please visit their site http://caymanhumane.com or E-Mail caymanhumane2000@hotmail.com for more information.