La Casa del Habano Owner/Director
---
La Casa del Habano here in Grand Cayman is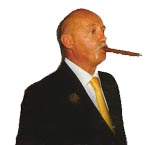 organized and conducted by part Owner and Director Velerio Carnale.
Originally from Italy, the "long time" resident in Grand Cayman has spend immense amounts of time visiting Cuba, educating himself in the true art of the Cuban Cigar.
Valerio's passion for cigars is an understatement. He is regarded as by fellow collectors and cigar experts as "the words most renowned collector in the tobacco world."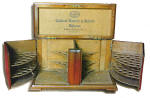 His collection of coffers includes a 1904 cedar box of the Eden de Banches y Lopez brand; there are only two in the world, one in Vienna Cigar Museum and the one he holds.
Valerio possesses very rare types of habanos, including a 1954 Partagas visible immenso. A humidor from the 150th anniversary of Partagas, two coffers of 1996 Salomon no.2, four coffers of Salomon no.2, commercialized under the Cuaba brand which hit the market in the year 2000 but is already a collector's piece. Each of the coffers can hold 44 puros.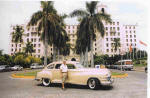 But his outmost satisfaction comes from smoking a cigar on the Malecon, sitting in his 1948 Windsor Chrysler. This beautiful automobile even comes with it's own built in humidor!
Widely known world wide for his extensive knowledge of this artistic Cuban product, Valerio's knowledge in the Cigar Industry is unmatched. He spends many weeks at a time traveling in Cuba attending cigar conferences, meetings and auctions.
Valerio also spends and equal amount of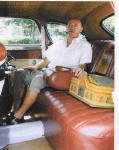 time through out Europe lecturing cigar seminars, educating cigar aficionados and seeking out rare aged cigars and collector grade humidors.
Valerio's extensive collections of cigars and automobiles in Cuba has drown attention to his passion by many publications and relative books in the world of cigars. You can find him published in most cigar history and relevancy manuals.
Of course you can find Valerio here in Grand Cayman where his wife and son also reside. Helping clients and educating the public with the fascinating history of the cigar etiquette.
"Meeting Valerio Carnale, a unique collector of the Americas, is like approaching the sanctuary of a Buddhist monk in which the myrrh and incense have been exchanged for coffee and a Havana cigar." 'From seeds to ashes' by Claudio Izquierdo Funcia/Jukka Olavi Svahn

Purchase the book while visiting La Casa