Portofino Wreck View Restaurant
---
Portofino restaurant located on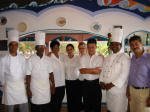 the East End of Grand Cayman is a true oceanfront dining delight. Tastefully decorated with an Italian Caribbean décor, this restaurant will take you from Italy to the Cayman Islands every time you look up from your table.
The ocean side patio sits high above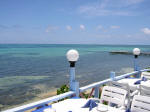 one of the most beautiful views in the world. The East End of Grand Cayman holds the most brilliant watercolors found in the Caribbean and Portofino has captured the view like no other.
The restaurant overlooks the wreck of the Ridgefield along the Barrier Reef of Gun Bay. Many ships have found their fate in this location, reminding diners of the beauty of the Sea and nature's might.
The East End of Grand Cayman also offers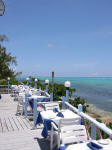 fantastic snorkeling and fresh sea breezes, making this wonderful location a must for leisurely lunches. With an exciting made to order lunch menu, including dinner items and lighter fares. As always, the wine list is close at hand.
Dinner is held under the Caribbean moon or if you prefer, inside in a superb candle lit ambiance.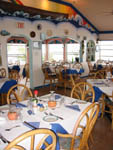 With many restaurant specialties spanning from the Chef's Lobster to the Crespelle Portofino. The Menu will keep you coming back for more of the Wreck View's delicacies.
The Wreck View also offers delicious Indian cuisine in the likes of the Seafood Currie Platter. A selective authentic East Indian meal can also be ordered special made 24 hours in advance.
Portofino restaurant is conveniently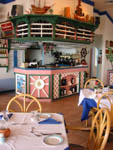 located nearby Morritt's Tortuga and The Reef Resort and has been a favorite amongst the many owners since it's opening.
On you next visit, make sure to visit Portofino for a pleasurable dining experience in the enchanting setting of the Wreck View.