Neptune's Lunch Menu
---
Lunch is served 11:30am to 2:20pm
LUNCH MENU
---
ANTIPASTI FREDDI – cold appetizers
---
INSALATA CAPRESE $5.75
Vine-ripened beefsteak tomatoes and fresh buffalo mozzarella marinated with basil leaves and extra virgin olive oil.
FANTASY OF FRESH TROPICAL FRUITS $5.95
Chilled supreme of fresh tropical fruits with peach schnapps.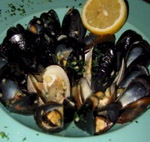 BEEF CARPACCIO $7.25
Thin sliced of raw fillet mignon, field greens, shaved reggianito cheese with dressing of olive oil and lemon.
SALMON GRAVLAKS $7.50
Thin sliced Norwegian fjord salmon cured with dill, sugar and brandy presented with red onions and capers.
TUNA CARPACCIO $7.75
Thin slice of blackened yellow fin tuna, organic baby salad greens, capers and red onions.
MARINATED CONCH $7.25
In a spicy island marinade, served on a bed of mesculin.
CALAMARI FRITTI $7.25
Tender fried squid
---
LE ZUPPE E LE INSALATE – soups and salads
---
MINESTRONE $4.25
Italian vegetable soup with plum tomatoes, beans and pasta.
ZUPPA DEL GIORNO $4.25
Ask your server about today's steaming selection.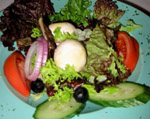 INSLATA DI CESARE $4.95
Heart of Romaine lettuce tossed with our classic Caesar dressing, herb croutons and fresh parmesan cheese.
WITH CHICKEN $7.75 or WITH SHRIMPS $10.25
INSALATA GRECA $4.75
Fresh chunks of garden vegetables and feta cheese in oregano olive oil dressing on a bed of Romaine hearts.
INSALATA DELLA CASA $4.75
Mixed garden and field greens with fresh refreshing Italian dressing.
WITH CHICKEN $7.25 or WITH SHRIMPS $10.25
VEGETABLE PLATTER $7.95
Selection of grilled vegetables
---
LE PASTE – pasta
---
PENNE ALL'AMATRICIANA $9.25
Penne pasta with a lightly spiced tomato sauce, bacon, onion and a touch of garlic.
PENNE ALLA "SALVO" $9.75
Durum wheat pasta tossed with a sauce of chicken, eggplant and zucchini, plum tomatoes, cream, pecorino cheese and Italian herbs.
LINGUINE "CLAUDIA" $11.95
Linguine pasta sautéed with shrimps and scallops in a pesto cream sauce.
LINGUINE "FRA'DIAVOLO" $10.50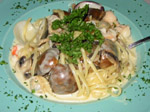 Jumbo shrimps with garlic and shallots in a spicy marinara sauce.
FETTUCINE ALFREDO $8.00
Heavenly tangle of pasta tossed with parmesan cheese and cream sauce
Guest choice: with chicken $8.95 or with shrimps $10.25
SPAGHETTI "NORMA" $9.75
Spaghetti pasta sautéed with garlic and mushroom in a marinara sauce topped with home made meat balls.
SPAGHETTI ALLA "COURTNEY" $9.95
Spaghetti pasta with eggplant, fresh tomato and garlic topped with fresh mozzarella di Bufala.
RAVIOLI ZIO YUNIO $9.95
Ricotta filled ravioli in a tomato cream sauce
LASAGNA $9.95
Fresh pasta filled with ground beef, mozzarella, ricotta cheese, besciamella and parmesan cheese topped with marinara sauce.
---
SPECIALITA'DI NETTUNO- Neptune's specials
---
VITTELO MARSALA $12.95
Veal scaloppine sautéed with garlic, olive oil, mushroom and Marsala wine.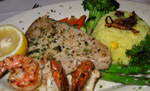 VITTELLO ALLA SORRENTINA $11.95
Veal scaloppine with light marinara sauce and topped with fresh mozzarella di Bufala.
FISH OF THE DAY $10.95
A daily selection of best fish. Grilled, pan-seared, broiled or blackened.
POLLO ALA GRIGLIA $10.25
Grilled chicken breast topped with herbal sauce.
POLLO PICCATA $10.25
Chicken scaloppine with lemon, mushroom and capers.
MADRAS CHICKEN CURRY $10.50
Traditional recipe is followed and served with flavored rice, naan and vegetables.
SNAPPER AND SHRIMP COCONUT CURRY $12.95
You must try our secret recipe!
ARROZ CON POLLO $9.95
Traditional Spanish recipe.
QUESADILLAS $9.95
With shrimp and lobster.
BURGER $6.95
Old fashion classic.
CHICKEN WRAP $9.25
Don't be shy. Enjoy!
STEAK $12.50
Grilled 8oz. New York center cut steak served with sautéed mushroom and vegetables.
---
Kids Menu
---
Your choice $4
Spaghetti or penne in butter sauce, tomato or Alfredo sauce.
Chicken Fingers
Fish Fingers
Mozzarella cheese sticks.