Neptune's Dinner Menu
---
At Neptune Restaurant we pride our self on the quality of food we serve and the professional service we provide. Your meal will be prepared with only the finest ingredients. We use the finest mozzarella, the highest quality imported parmesan cheese, extra virgin olive oil and San Marsano tomatoes.
Neptune's seafood is the highest quality and is delivered fresh daily. All of our beef and veal is hand selected from preeminent western packers. Sit back, relax and let us treat you as our special guest.
Bon Appetito,
Alberto, Yunio, Raj
---
ANTIPASTI FREDDI – cold appetizers
---
INSALATA CAPRESE $6.25
Vine-ripened beefsteak tomatoes and fresh buffalo mozzarella marinated with basil leaves and extra virgin olive oil.
FANTASY OF FRESH TROPICAL FRUITS $5.95
Chilled supreme of fresh tropical fruits with peach schnapps.
BEEF CARPACCIO $7.25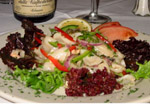 Thin sliced of raw fillet mignon, field greens, shaved reggianito cheese with dressing of olive oil and lemon.
SALMON GRAVLAKS $7.50
Thin sliced Norwegian fjord salmon cured with dill, sugar and brandy presented with red onions and capers.
TUNA CARPACCIO $7.95
Thin slice of blackened yellow fin tuna, organic baby salad greens, capers and red onions.
MARINATED CONCH $6.25
In a spicy island marinade, served on a bed of mesculin.
---
ANTIPASTI CALDI-hot appetizers
---
ESCARGOT BOURGUIGNONNE $7.95
Burgundy snails in garlic butter with an infusion of Chablis and Pernod.
DELIZIA NETTUNO $7.95
Sauté of fresh bay scallops and fresh mushrooms in a spicy garlic sauce with a touch of balsamic vinegar.
PORTABELLO ALLA VALDOSTANA $7.25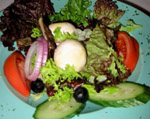 Grilled portabello mushroom layered with Parma ham and melted fontina cheese with hand picked mesculin lettuce.
CALAMARI FRITTI $7.95
Tender fried squid.
CALAMARI ALLA MARINARA $7.95
Tender fresh Calamari tubes sautéed with garlic, shallots, white wine in alight spicy marinara sauce.
GNOCCHI $6.75
Potato dumplings sautéed with your choice of sauce: marinara, cream of tomato or Gorgonzola cheese.
---
LE ZUPPE E LE INSALATE – soups and salads
---
MINESTRONE $4.25
Italian vegetable soup with plum tomatoes, beans and pasta.
ZUPPA DEL GIORNO $4.25
Ask your server about today's steaming selection.
INSLATA DI CESARE $5.25
Heart of Romaine lettuce tossed with our classic Caesar dressing, herb croutons and fresh parmesan cheese.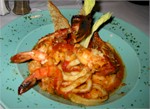 INSALATA GRECA $5.25
Fresh chunks of garden vegetables and feta cheese in oregano olive oil dressing on a bed of Romaine hearts.
INSALATA DELLA CASA $4.95
Mixed garden and field greens with fresh refreshing Italian dressing.
---
LE PASTE-pasta
---
PENNE NETTUNO $19.95
Penne pasta al dente, tossed with lobster, shrimps and scallops in a saffron cream sauce.
PENNE ALL'AMATRICIANA $13.95
Penne pasta with a lightly spiced tomato sauce, bacon, onions and touch of garlic.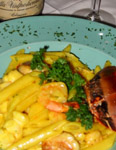 SPAGHETTI ALLA "CURTNEY" $14.95
Spaghetti pasta with eggplant, fresh tomato and garlic topped with fresh mozzarella di Bufala.
RAVIOLI ZIO YUNIO $14.95
Ricotta filled ravioli in a tomato cream sauce.
LASAGNA $12.95
Fresh pasta filled with ground beef, mozzarella, ricotta cheese, besciamella and parmesan cheese topped with marinara sauce.
LINGUINE "FRA'DIAVOLO" $17.95
Jumbo shrimps and lobster in a spicy tomato sauce.
SPAGHETTI "BELLA PESARO" $16.95
Spaghetti pasta with grilled zucchini tossed with fresh clams, parsley garlic olive oil and a hint of tomatoes.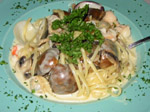 LINGUINE "SIRENETTA" $16.95
Fresh linguine pasta with jumbo shrimps and mushrooms in lightly spiced white wine sauce.
FETTUCINE DELLA CASA $14.95
Fresh fettuccine pasta with chicken breast in a light creamy sauce.
MELANZANE ALLA PARMIGIANA $14.95
Grilled eggplant topped with mozzarella and marinara sauce.
TORTELLINI "ALBERTINA" $14.95
Cheese filled tortellini with Parma ham and mushrooms in a cream sauce.
SPAGHETTI "NORMA" $13.95
Spaghetti pasta sautéed with garlic and mushroom in a marinara sauce topped with home made meat balls.
PENNE MARINELLA $14.95
Penne tossed with garlic, olive oil, roasted eggplant, pine nuts, Kalamata olives, sun-dried tomatoes, broccoli, pepper and parmesan cheese.
---
SPECIALITA' DI NETTUNO- Neptune's specials
---
ZUPPA DI PESCE- Neptune's popular seafood dish $26.95
Fresh lobster, shrimps, scallops, mahi-mahi, calamari, mussels, garlic, shallots, Pernod and olive oil sautéed in a light tomato broth.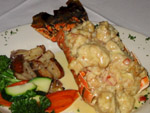 SNAPPER "PORTO CERVO" $21.95
Fresh fillet of grilled snapper with lobster and shrimps tomato cream sauce.
NEPTUNE'S TRIDENT $20.95
Grilled snapper, shrimps and mahi-mahi brushed with garlic olive oil and fresh herbs.
LOBSTER CHEF'S STYLE $25.95
Buonissima!!!!!!
SALMONE ALLA GRIGLIA $15.95
Grilled salmon topped with herbal sauce.
MAHI-MAHI PICCATA $16.95
Grilled fresh fillet of mahi-mahi with lemon butter caper sauce.
BENJAMIN'S STEAK $22.95
Certified black Angus 10oz New York boneless strip steak with Gorgonzola butter served with fries and salad.
FILETTO "DON ALBERTO" $24.95
Aged, center-cut beef tenderloin grilled to perfection served with porcini and portabella mushrooms, California cabernet sauce.
SCALOPPINE ALLA PIZZAIOLA $17.95
Veal scaloppine with garlic, mushrooms, white wine, Italian plum tomatoes and fresh herbs.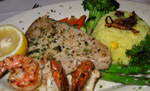 VITTELLO ALLA PARMIGIANA $16.95
Tender veal topped with tomato sauce and melted cheese.
MIXED SEAFOOD CURRY $20.95
Traditional Indian style served with flavored rice, roti, pickle and vegetables.
POLLO "CANTOPIRATA" $16.95
Sauté chicken breast topped with shallots, mushrooms and artichoke hearts in a pommere mustard cream sauce.
CHICKEN "SORRENTINA" $17.95
Chicken scaloppine with light marinara sauce and topped with fresh mozzarella di Buffala.
SURF AND TURF $29.95
Broiled 10oz. lobster tail and 6oz. aged, center cut beef tenderloin grilled to perfection.
---
KIDS MENU $5.95
---
Spaghetti or penne in butter sauce, tomato or Alfredo sauce.
Chicken fingers.
Fish fingers.
Mozzarella cheese sticks.
---
DESSERT MENU
---
TIRAMISU $5.25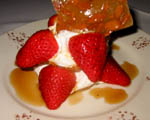 A delicious, creamy combination of contrasting flavors Mascarpone cheese with coffee and coffee liqueurs dipped cookies.
CHOCOLATE TRUFFLE CAKE $5.25
Symphony of white and dark chocolate over chocolate sauce.
MOCA TRES LECHES $5.25
Rich moca cake soaked in a creamy chocolate milk.
STRAWBERRY NAPOLEON $5.25
Layer of caramelized almond cookies with cream and fresh strawberries.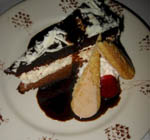 COCONUT AND LEMON GRASS PANACOTTA $5.25
Classic Italian dessert served with caramelized pineapple sauce.
ICE CREAMS AND SORBET
NEPTUNE SPECIAL ICE CREAM $5.25
COCONUT AND PINEAPPLE $3.50
VANILLA, STRAWBERRY, CHOCOLATE $3.50
LEMON AND RASPBERRY SORBET $3.50
COFFEE
CAFÉ NEPTUNE
A delicious café with Baileys and Brandy topped with wiped cream.
CAFÉ CARIB
Dark rum, Tia Maria and wiped cream.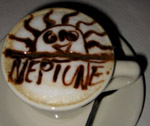 CAFÉ DON ENRIQUE
Frangelico, Baileys and a splash of Brandy topped with rich cream.
CAFÉ LOCO
Brandy, rum, Tia Maria and cream.
CAFÉ MARCHETTO
Grand Marnier, Baileys and Cointreau with cream.
FRESHLY BREWED COFFEE, REGULAR or DECAF. ESPRESSO. CAPPUCCINO. ICED, HOT and HERBAL TEA