Neptune Restaurant
---
You
are invited to taste the Neptune Restaurant experience. Located in a lush courtyard garden setting, seafood specialties, authentic Italian cuisine, friendly professional service and only the highest quality ingredients, make Neptune the restaurant you must seek out on your Grand Cayman visit.
Owned and operated by a trio of "long time" Cayman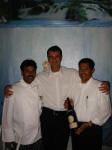 Islands renowned chefs and Maitre' D's, Yunio, Raj and Alberto. As Alberto explains, "We wanted to provide an alternative to the "high paced" restaurants we have all worked in our past to create a homey, relaxed dining atmosphere, where you can enjoy an exquisite unrushed meal that is hard to find. When you dine here, your table is your table all night long..."
Dine indoors or outdoors in the scenic, open-air patio. Sampling some of Italy's finest seafood cuisine while stargazing under the Cayman night sky is surely the recipe for Romance.
Neptune Restaurant has created the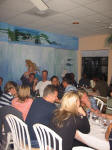 finest in dining. Only the freshest seafood is carefully selected and delivered to the Restaurant daily from local fisherman. It is no wonder Neptune Restaurant is considered to be one of the top Seafood Restaurant found here in Cayman.
Select from an extensive wine menu to make your meal complete. With the kitchen overlooking the inside of the Restaurant, take a peek before you are seated and say "Hi" to Raj, the Head Chef, and take a look at the specials.
Do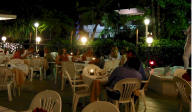 make sure to meet Yunio, known to meet all connoisseur demands with his extensive restaurateur experience, he'll guide you through the menu and make sure all of your senses will be thoroughly delighted.
Our super bartenders, will tempt you with their many drink specialties throughout the evening. In a restaurant where every hour is happy hour, wine is not the only beverage served. Make sure to have one of our artistic Cappuccinos when your fantastic meal comes to an end.