Grand Cayman Cruise Ship Excursion Information
Cruise Ship passengers arrive to Grand Cayman daily, for some passengers it is for the first time, for many it is their returning visit to our shores.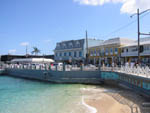 The Cayman Islands are by far the most anticipated stop for cruise ship passengers, because of the peaceful surrounding, beautiful beaches, no street site vendors, beggars or crime. You will be able to fully enjoy our beaches, excursions and Duty Free Shops in Grand Cayman.
The biggest complaint heard from cruise ship passengers is " We never spend enough time in Grand Cayman!" Cruise Ships are only in the Cayman Islands for a short 6 hours, they then depart to either Jamaica or Cozumel continuing their cruise fun to other Tropical locations. If you are arriving by Cruise Ship here are some hints and info to make your shore excursions less expensive.
Weekly Cruise Lines are Carnival Cruise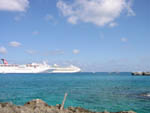 Line, Princess Cruise Line, Royal Caribbean, Holland America, Norwegian, Costa Cruises and even Disney Cruise Lines make their Port of Call on their cruises here in Grand Cayman.
Our Other Website
Due to the popularity of this single Web page by Cruise Ship Passengers, Island Marketing Ltd has dedicated a whole Website just for you!!! Grand Cayman Cruise Excursions has all the cruise ship information you'll need when visiting Grand Cayman for one day visits. On http://grandcaymancruiseexcursions.com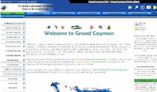 you will find all of our recommended operators with trip times and special Cruise Ship Passengers prices dedicated just to cruise ship passengers, Cruise Ship information, George Town snorkeling information, shopping information and more! If you are arriving by ship and would like to maximize you short one day stay, please also refer to our Cruise Ship Arrivals Website!
---
What to shop for
The Cayman Islands hold some of the best Duty Free shopping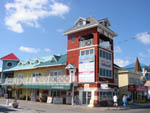 in the world. Duty Free items include Jewelry, Gold, Gold/Silver Coins, authentic Cuban duty free cigars and accessories, Photographic cameras and accessories, Porcelain or China, Alcohol (don't forget that bottle of Cayman Islands rum!) Rum Cakes, Perfumes and a whole lot more.
Cruise Ships do not arrive at a dock in Grand Cayman, a tender is used to come to shore. The tenders take passengers right to the heart of George Town where most of the shopping is conveniently available. Just a few steps to the right or left of the dock will lead you to shopping heaven! To cut back on shopping time, pay a visit to the Blue Iguana Souvenir Outlet a few steps away from the terminal walking towards Club Paradise. You will be able to find all you need, at competitive prices all in one store! Some of the Worlds best quality silver can also be found very close to the Cruise Ship Tenders. Silver City is Grand Cayman's only Sterling Silver Shop, offering only Silver creations!
Going to the beach
You can now enjoy our beautiful Island on the Cayman
Outrage Eco Stingray City Tour. This private excursion will take you to the most beautiful snorkeling to be found in Grand Cayman as well as our most secret beaches! Visiting our beach by boat is by far the way locals do it!
Grand Cayman horseback Beach Rides provides free transport to the beautiful deserted beaches of Bodden Town FREE of charge. You can enjoy an Island Tour before and after your horseback excursion.
Going to one of our many beaches here in Grand Cayman seems to be the activity of choice after shopping away in George Town.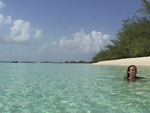 There are many choices you can take. Most cruise ship passengers are taken to cruise ship points where you will be charged admission, or worse, charged for the use of the beach chairs and facilities.
Taking a cab from George Town to the West Bay Public Beach is by far the best choice. The beach there is fantastic and free! With bathroom facilities and plenty of shady trees you can truly enjoy the un-crowded surroundings. When you are done sun tanning and playing in the water, Neptune Restaurant right across the street is an excellent choice for lunch and frozen delicious drinks.
Scuba Diving
Scuba Diving in the Cayman Islands is a World class activity.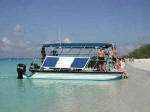 Grand Cayman offers fantastic wall diving, shallow reefs and of course the famous Stingray City. Snorkeling is offered on most Cruise Ship excursions list while diving is completely left behind or if offered, you often find yourself with a boat filled to the brim with other fellow divers. We give you a chance to scuba dive stingray city with your fellow snorkeler; perfect for the family where only one dives and the other one snorkels!
Stingray City
The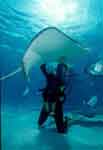 most popular excursion in Grand Cayman remains Stingray City. You are now able to visit Stingray City or the Stingray City Sandbar without the crowds with our list of operators. Enjoy one of our popular private charters on beautiful sailboats or sail in stile on our Catamaran Excursions.
Ever dreamt of Scuba Diving? Here is your chance! You are now able to take a safe and easy Discover Diving Course on the fascinating Wreck of the Cali, followed by a fantastic dive at Stingray City to play with Stingrays in their natural habitat, all in barely 25 feet of water!
Shore excursions
As we all know, shore excursions can be booked directly from the Cruise Ship. That is, if you have money to burn!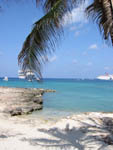 Cruise Ships charge a huge commission for booking Island Tours, Submarine excursions, Glass Bottom Boats, Snorkeling Trips and so on. You can save a bundle of cash (better spent on shopping) if you book your excursions directly with the companies offering the services here on the Island.
All excursion companies here in Grand Cayman are fully licensed and insured according to Government policies and regulations, this will assure whatever trip you book yourself will be of the utmost standard. In fact, all the excursions you can book through our Website will be offered to you by your Cruise Director for a much higher price!
Why book earlier
After booking a cruise all Cruise Ship passengers know the itinerary, this makes it easy for one to know when they will be in port. Because of the sometimes-limited availability, visitors should book the most popular excursions early to guarantee seating.
Take a look at our Activities section in order to see some of the best excursions Grand Cayman has to offer and reserve your trip after printing out your discount coupon!
If you did not book an excursion before leaving the house
The beautiful part of today's technology is of course the ease of communication. All Cruise Ships offer Internet access to passengers. If you did not reserve an excursion because you simply cannot make plans months in advance (We all know that feeling) simply log on to our site a few days before your arrival here in Grand Cayman and book the excursion you would like to participate in from the Ship! The Web Address is easy, just think of what you would like to receive when on vacation in the Cayman Islands. Cayman Islands Discounts, that's what! Just add a dot com at the end.
Thank you for reading! Now, Back To Top